Dr. Angela Starkweather talks about CAMP in UCONN Today !!
Excerpt from the Article:
Center for Advancement in Managing Pain
One hundred million of anything is a lot. And according to the National Institutes of Health (NIH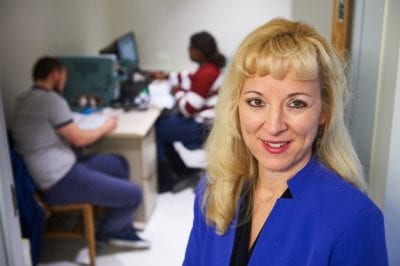 ), that's approximately the number of people in the United States who suffer from chronic pain. Pain that is generally described as lasting longer than six months. Pain that can lead to all sorts of associated physical and mental symptoms affecting a person's ability to enjoy anything resembling a normal life. Pain that just won't go away.
In an age when advances in medicine seem to be announced almost daily, treatment of those with chronic pain appears to be as frustrating for those in the medical community as it is to those who suffer from it. Pain is complicated. Pain is stubborn. And pain often doesn't play by the normal rules of medicine.
Under the guidance of Regina Cusson, dean of the School of Nursing, who is a long-time advocate of an integrated approach to pain prevention and management – and in collaboration with UConn Health and Connecticut Children's Medical Center – UConn has established theCenter for Advancement in Managing Pain(CAMP), in an effort to increase understanding of chronic pain and provide a source of relief to those millions who suffer from it. The Center's director is Angela Starkweather.