Center for Accelerating Precision Pain Self-Management (CAPPS-M)
The purpose of the NINR funded Center for Accelerating Precision Pain Self-Management (CAPPS-M) (P20NR016605) at the University of Connecticut School of Nursing (UConn SON) is to advance theory-based symptom SM interventions, with a focus on pain, and improve pain self-management and health outcomes in diverse populations with acute and chronic pain. The purpose of this application in response to the RFA-NR-16-001 for Centers in Self- Management of Symptoms: Building Research Teams for the Future (P20) is to build interdisciplinary teams and feasibility research in precision pain SM through centralized infrastructure, mentorship, and shared resources.
Goals:
Select and support pilot studies that advance the science of precision pain self-management for individuals and families across the lifespan
Expand the number and quality of theory-driven research projects aimed at understanding the influence of the biological (genomic/-omic) context of pain on self-management process and outcomes
Enhance the research infrastructure by expanding the number of nurse scientists and interdisciplinary collaborators involved in advancing the science of pain self-management;
Build the capacity for sustainable research teams focused on precision pain self-management through collaborations among interdisciplinary scientists, community networks of individuals and families and partner centers and institutions.
Members of the UConn P20 CAPPSM Team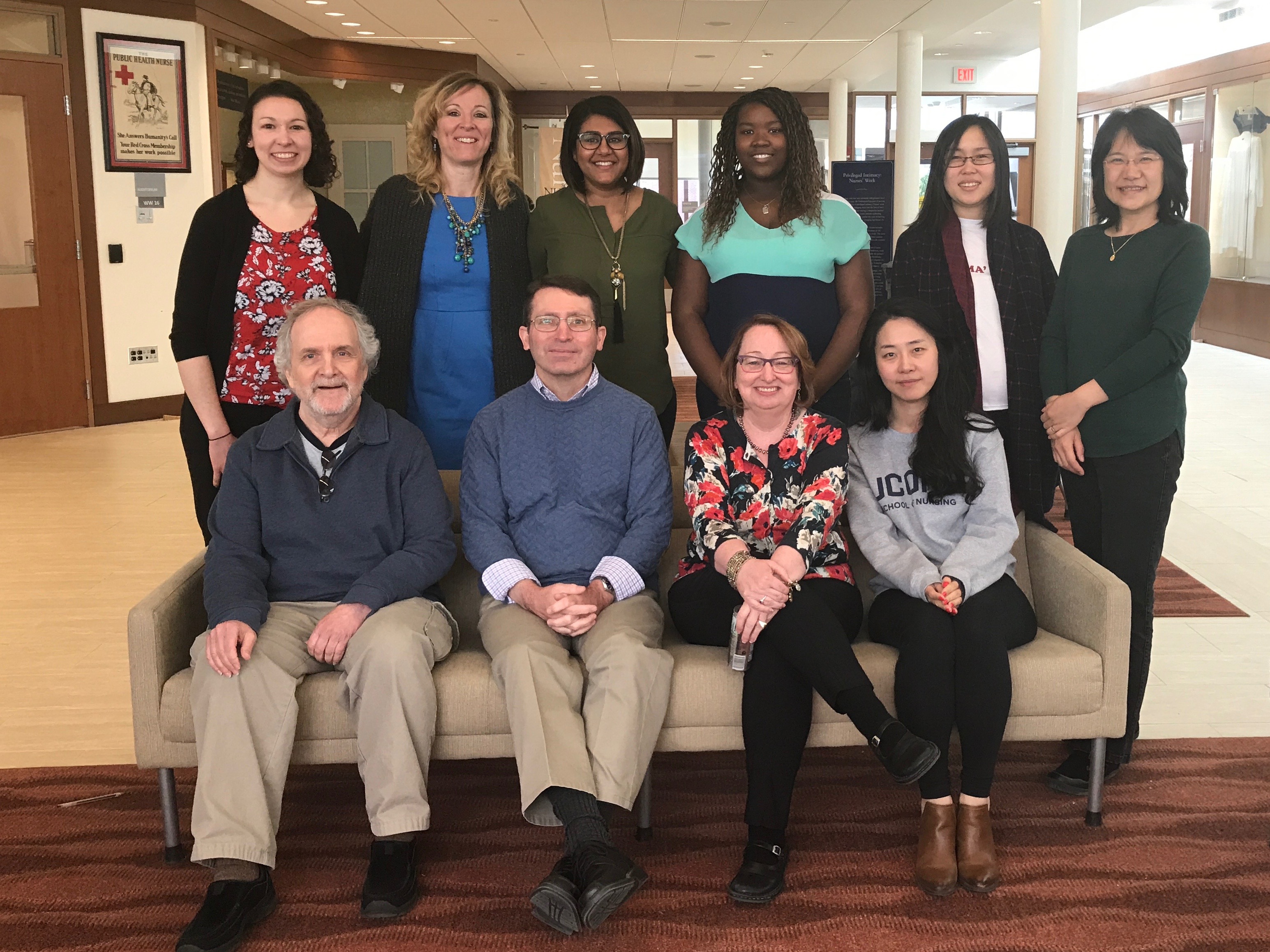 The Impact of Physical Activity on the Neurophysiologic and Gene Expression Profiles of Chronic Low Back Pain: A Longitudinal Cohort Study
Pilot Investigator
Kyounghae Kim (PI)
Summary
The proposed pilot project will engage participants in the Problem-solving Pain to Enhance Living Well (PROPEL) intervention, with support of nurse consultations and wearable activity tracking technology. Neurophysiologic measures will be obtained using a standardized protocol of quantitative sensory testing (QST). Gene expression profiling will be assayed using RNA sequencing. To test the central hypothesis of this application, which is that moderate physical activity will exert a significant change in neurophysiological and gene expression profiles, we will conduct a one group, longitudinal cohort study of cLBP participants during the PROPEL program.
Precision Pain Self-Management in Young Adults with Irritable Bowel Syndrome
Pilot Investigators
Xiaomei Cong (PI)
Summary
The proposed pilot project will provide foundational information about the contextual factors of IBS pain (pain catastrophizing, perceived stress, reactivity pain sensitivity, genetic and microbiome) on pain SM process and outcomes. In addition, we will gain insight on the potential impact of the personalized IBS-pain SM approach on pain SM behaviors and health outcomes. The knowledge gained from this pilot study will position the PPI and her team for future work in the area of precision pain SM, using innovative methods to improve quality of life and costs of care for individuals and families with IBS pain.
Publications
Cong X, Ramesh D, Perry M, Xu W, Bernier KM, Young EE, Walsh S 

& Starkweather, AR (2018).

Pain self-management plus nurse-led support in young adults with irritable bowel syndrome: Study protocol for a pilot randomized control trial. Research in Nursing & Health
Cong, X, Perry, M, Bernier, KM, Young, EE, & Starkweather, AR (2017). Effects of Self-Management Interventions in Patients with Irritable Bowel Syndrome: Systematic Review. Western Journal of Nursing Research
Presentations
Self-Management Science Center, February 17, 2017, Podium
P20 External advisory Board meeting, September 2017, Podium
Council for Advancement in Nursing Science, October 2017, E-Poster
Eastern Nursing Research Society, April 2018, Podium
NIH Center Directors Meeting, May 2017 & 2018, Poster
Promoting Self-Management of Breast and Nipple Pain in Breastfeeding Women
Pilot Investigator
Summary
The overarching goal of this program of research is to improve nipple and breast pain self-management in breast-feeding mothers and enhance their feeding  self-efficacy to achieve their feeding goals. Breastfeeding (BF) is one of the most important early determinants of infant health and development. Duration of BF is significantly related to reduced incidence of infantile respiratory and gastrointestinal tract infections, obesity and asthma . However, over 35% of mothers cease exclusive BF during the first 6 weeks due to nipple and breast pain . While 90% of mothers report acute nipple and breast pain during the first week of BF initiation, approximately 30% will experience persistent pain (>10 days). Based on the Individual & Family Self-Management Theory (IFSMT) model, the following pilot project will test the feasibility of a Breastfeeding Self-Management (BSM) Intervention on BF outcomes in mothers with nipple and breast pain. In addition, the proposed study will provide a preliminary examination of genetic, psychological and somatosensory factors that predict nipple and breast pain and possibly, early cessation of BF.
Presentations
Self-Management Science Center, February 17, 2017, Podium
NIH Center Directors Meeting, May 2017 and 2018, Poster
Maternal and Infant Nutrition and Nurture Unit Meeting, June 2017, Podium
P20 External advisory Board meeting, September 2017, Podium
Eastern Nursing research Society Meeting, April 2018, Podium